This weekend I had the pleasure of spending time with Hope and Alan in Bryson City. Hope and Alan are madly in love, super cute and are a real joy to be around. Alan is home for R&R from his tour in Afghanistan and contacted me to come and get some pictures of he and Hope while they spent time together in a beautiful cabin they rented from Carolina Mountain Vacations on the edge of the Smokey Mountain National Park.

I had not spent much time in Bryson City previously and didn't know what photographic opportunities there would be where they were, so it was exciting and a little nerve racking walking into the situation. Once I arrived and met Alan, I knew that we would have a good time, no matter where we went.

Their cabin didn't have long range views so we went up the hill to the next cabin that was not rented and started shooting some images along a fence with a good view. In the middle of our shoot, a man came up the driveway and told me that he owned the cabins and his home was at the top of the hill and proclaimed that it had the best view in the county and told us we could go up there to shoot all we wanted. So we took him up on it... and he wasn't kidding.

We could see 5 sets of mountains from his house, looking due west. Simply breath taking. We shot there for a while then took a quick drive into the Smokey Mountain National Park to grab some shots along the river, knowing we would come back to shoot the sunset at the same place.

Hope and Alan and I had a lot of laughs during our shoot this Saturday. It was great to be around two people so in love with one another. I could feel how precious this time was to both of them as Alan is shipping off again soon and it will be several months before they will be together again. Thanks so much you two, for allowing me to capture your love while Alan was in town. I hope that I get to see you both together again when Alan gets back!

Here are a couple of shots from the top of the mountain and from the National Park. Enjoy!



The playful couple by a waterfall in Smokey Mountain Natl Park



Such a cute couple!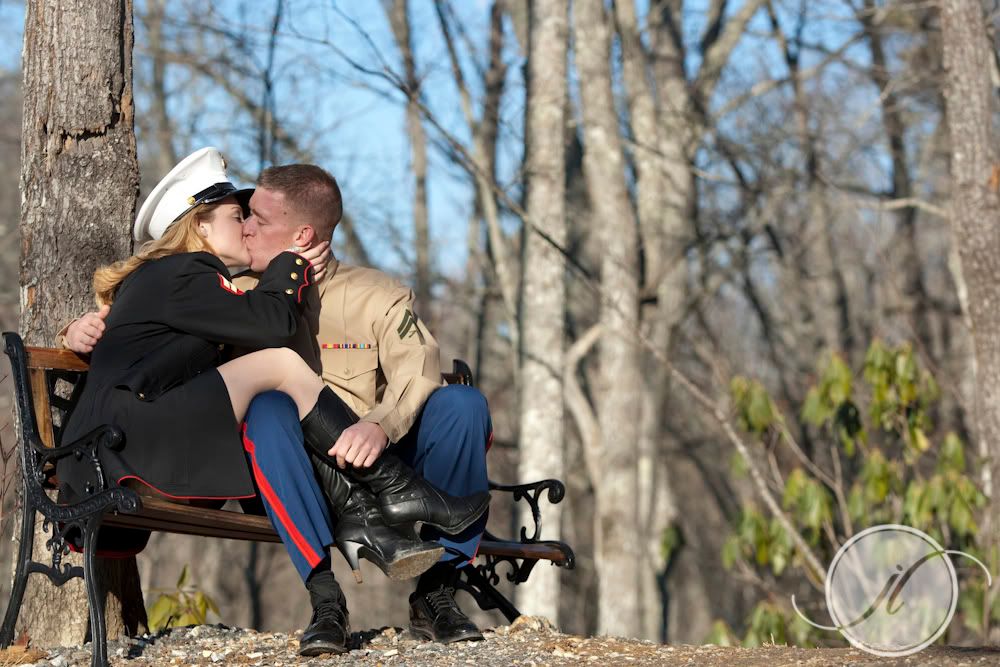 Love the jacket on Hope! Too cute.



Love the sunset... and the kiss. These two are so in love!