Wheels wheels and more wheels!
After my shoot yesterday, I have a renewed respect for tractor trailers and the people who drive them. I was hired by Chambers Transportation in Charlotte to shoot images of their big rigs here in the mountains for their website and some new art in their offices. I got to spend a day with Ryan Chambers and one of his new Kenworth rigs.
Wow, that is a big machine! I have seen millions of trucks in the road and it was not until I stood next to the truck to take pictures that I got a real sense of how large one of these transportation devices really is. Ryan told me that fully loaded, that the trailer and rig could weigh 40 tons...that's 80,000 pounds for those of you keeping score at home. The cab has two bunk beds and is 72 inches across, room for a tv, bed side tables, built in drawers and Ryan said some of the cross country trucks could have bathrooms and showers as well. Working in teams, these trucks can run non stop 24 hours a day to make it back and forth across the country in 3 days.
In addition, the truck holds 300 gallons of fuel and gets about 7 miles a gallon. Lets do the math on that when diesel was 5 bucks a gallon and your shipment has to go 3000 miles... no, never mind, you get the idea.
For those of you, like me, who may have in the past cut off a truck or two when on the highway... this rigs needs a full football field to stop when going 65 mph. That's a long way to come to a stop, please take that into consideration the next time you want to make a quick lane change with your kids in the car.
Ryan, Chris (my driver and assistant extraordinaire) and I had a great time shooting images of the big rig. I got to sit in the drivers seat and look out over the hood of 500 horsepower of diesel love. We shot in Swannanoa, and in Canton and the weather could not have been better. We had to wait out some early morning cloud cover in Canton and once it broke, it was one of the nicest days we have had up here. I particularly enjoyed hanging out the back window of my 4 wheeler (that's big rig cb talk for passenger vehicles) and shooting Ryan's truck going down the road. We got some confused looks from some of the other people on the road which just added to the fun. Thanks to Chris for a great job driving!
These are a couple of preliminary images from the shoot. I have artistically tweaked a couple of images as I find myself really enjoying the lines, size and aesthetics of this big truck. These trucks really are pieces of art in engineering and functionality and as the trucks evolve, the shapes, curves and body styles become more and more stylish in my eye.
So, with a newly renewed respect for the men and women who cart my stuff from here to there and the machines they use to do it... Ill let you decide if you think these big rigs are as cool as I think they are.
See you down the road...
Jon



Movin'!



Optimus Prime kicking it in the mountains.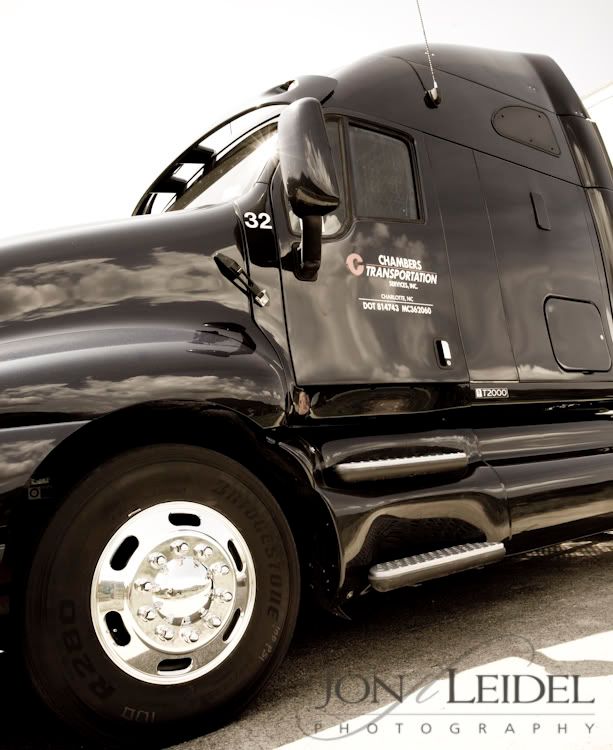 Truck Portrait